Friday, December 17, 2010
8:34 AM | Posted by Pray For Baby Noah |
|
Edit Post
******** Today's updates during surgery will be added to this post!!! So please keep scrolling down for the additional updates. I will be updating this post EVERY HOUR! ***********
First update 8:30am CT:
They came and got Noah at 7:30 this morning. It is now 8:40, Dr Mitchell just came in and explained everything that will be done during surgery and that he is very optimistic that closing these residual VSD's will help him improve with his recovery. They had just completed an ECHO done through his esophagus and it showed just 2 holes... on at the top of the patch and one at the bottom. Before they open him up, they will be doing a bronchial scope to look at his airways. Stay tuned!
Second update 10:00am CT:
Dr Mitchell has made made the incision into Noah's chest and has started dissecting through the scar tissue. Prepping for the transition onto bypass is starting. Vitals are stable. Dissection is going to take a while.
Third update 11:00am CT
Noah has been on partial bypass for about 50 minutes and complete bypass for 25 minutes and Dr Mitchell is now working on finding/closing the first VSD. Noah is doing well and surprisingly, the dissection has gone a lot quicker than expected. PRAISE GOD! **** My mom is helping me keep busy... she is cutting out fabric so I can make some crayon rolls. I have my own little sweatshop going on here ;) LOL! ****
Forth update 12:00pm CT:
BOTH VSD's are now CLOSED! They are now warming him back up. His heart is beating on it's own!!!!! PRAISE GOD!!!!!!!!!!!!!!!!!!!!!!!!!!!! They will now do an ECHO to make sure there are no more residual holes and then start to take him off the bypass machine. Things are going really smoothly!
Fifth update 1:00pm CT:
Prayers please!!! Noah is going back on bypass. They had taken him off bypass and had done the ECHO... the hole on the bottom did not close properly. They did blood work and determined that they needed to go in and try to close that hole again. So once again they are cooling him back down and will once again put his heart to sleep and try again. Noah is still stable and doing well but with every bypass run there is always risks.
Sixth update 2:00pm CT:
Still working on the VSD... still stable. It is just a little more difficult working on this hole.
Seventh update 3:00pm CT:
Patching is done and now they are doing another ECHO to see if it is now closed... Please pray that this time was successful! When it is done and everything looks good they will do the broncoscopy to check his airway stability... Please pray for an airway miracle that he will not need any further airway reconstruction!
Eighth update 4:00pm CT
They are unable to close the second VSD. It is too risky and dangerous for them to continue to try. Noah is no longer on bypass and is doing well. The cardiologist that came to update us this time said that it will be a short term struggle but in the long hall he will be able to live a "normal" life with this hole. I asked him what he means about short term struggle and he said that we will struggle with getting him off the ventilator for a little while. Please pray that his lungs will be strong enough and not too much fluid over loaded. They are now doing the broncoscopy. Noah is doing well.
Ninth Update 5:00pm CT:
They are now closing Noah's chest. Everything is going well. Coming off bypass was a good transition again and his heart is beating on it's own very nicely. For some reason, unknown to us still, they have decided against doing the bronc. We are now waiting for Dr Mitchel to come out and talk to us.
LAST update!!!!! 6:00pm CT:
Noah is done with surgery and is already being wheeled back to his room. we got to see him in the hall and he looks great! During surgery he did have one episode of hypertension but besides that and the unsuccessful closure of the second VSD, everything went great. Now we are just waiting to go back to his room, which should be in about an hour. Thank you all for praying for us today. Please continue to pray for a quicker recovery and a successful extubation when the time comes.
About Me
Welcome to Noah's blog! We thank you for following us on our God-led journey and thank you for all your thoughts and prayers! Noah was born June 22, 2009 with many anatomical birth defects and underwent his first major surgery when he was just 4 days old. He has been in and out of the hospital since day one and has had a total of 4 major surgeries to date, with his latest one being the most extreme and difficult - his first open heart surgery on November 4 and December 17th, 2010. He is a warrior and this is his journey...
View my complete profile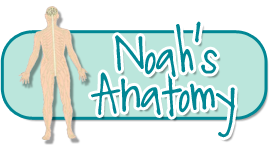 Click on a link below to learn more.
Double Outlet Right Ventricle
Tracheoesophageal Fistula
Scimitar Syndrome
Dextrocardia


Recources for CHD
Buy "Pray for Noah" shirts & more!